The Astro 69 Egg
The 69 Egg is a favourite of Gary's - a classic shape that he first resurrected from surfing's colourful past back in 1995.
With its plan shape originating from a 1969 Bennett 'Gem', it has a flatter rocker, low entry in nose, flat to subtle roll, or 'dome', in tail.
Since it also possesses good nose-riding ability - this board is the perfect all-rounder.
Fast & snappy - for those who like that retro feel...
Great in small to medium waves; all conditions.
Available Dimensions:
Length: 6'6" to 7'3"
Width: 20" to 21"
Nose: 151/4" +
Tail: 143/4" +
Fin set-up:
9" hand-made fibreglass 'Greenough-style' fin.
Available in volan, tints, pigments etc.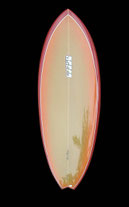 The Modern Astro Egg
Based on the 69 Egg plan shape - but pulled in a little in the
nose & tail, this board is for those who like smooth, fast, drawn-out turns.  
An absolute must-have for your quiver!
Low rocker, with a slight mid-concave going into slight "V" tail,
with slight double concave through fins.
Suits: round, area pin or swallow tail.  
Will surf in everything from 2-10 feet!
If you surf a short board this is your longboard -
and if you surf a longboard this is your short board!
Available Dimensions:
Length: 6'6" to 7'4"
Width: 193/4" to 21"
Nose: 14" +
Tail: 143/8" +
Fin Set-up:
10" Finbox with 6" hand-made fibreglass Astro 'Dolphin' fin plus;
G-1000 sides (or a variety of F.C.S. thruster fin set-ups).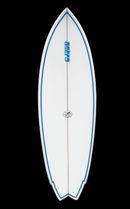 The Retro Twin
Great for small waves, with plenty of width & volume under your chest.
Easy to paddle, fast & responsive, low rocker, 'V' bottom.
This board will put you in places you thought weren't possible!  
Available Dimensions:
Length: 5'5" to 6'5"
Width: 203/4" to 213/4"
Nose: 14" +
Tail: 15" +
Fin set-up:
MR Twin set-up + optional rear stabiliser-fin.
The Astro ´Super-Fish`
This 'Super Fish' - with its low rocker; subtle, single concave into 'V' and; slight double concave through the fins - makes for a fast, loose ride!
With a plan shape that's slightly more pulled-in from the Retro version, this board goes great in bigger surf - as well as on smaller days.
If you feel the need for speed...  hurry up and get one of these!
Available Dimensions:
Length: 5'5" to 6'10"
Width: 191/4" to 211/2"
Nose: 13" +
Tail: 141/2" +
Fin set-up:
Available in thruster, quad or M.R. twin fin + stabiliser!