EARLY START
1977:  Leaves school to take up apprenticeship in carpentry – but it is surfboards
he is more interested in carving – and he wastes no time about it.
Soon secures a job, working for Lee Riley – where he familiarizes himself with
all facets of board manufacture: from glassing and sanding to polishing, and glossing. 
1978:  At just 17 years of age, Gary completes his 1st independently
shaped surfboard...  
FROM EXPERIENCE TO ENTERPRISE
1989:  Starts his own surfboard business Ombok, in Europe ...  or to be more precise - Scotland, UK - making Gary the country's first ever board shaper!
Stays in Scotland two years – shaping boards and surfing all round the British Isles
and Europe – including Scotland, England, France and Spain.
CUTTING IT WHERE IT COUNTS
1991:  ... Back in Avalon, Gary goes to work for another of Australia's leading surfboard shapers & 1st-ever surfing world champion, (Bernard) 'Midget' Farrelly
The enduring popularity of his 1966 Stringerless model – which, with Midget's permission, Gary continues to replicate – is testament to the perfection of its design.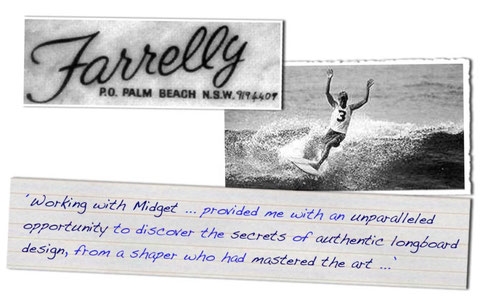 CROSS-STEPPING
1992:  Gary stops working for Midget, to develop his own fast-growing board business, Ombok.
He also secures some additional work with his friend's family board business, 
The Laminator.
Along with Matt Haymes – there was also Rex Marshall, Matt Penn, Mick Solarkis and Nick Pope.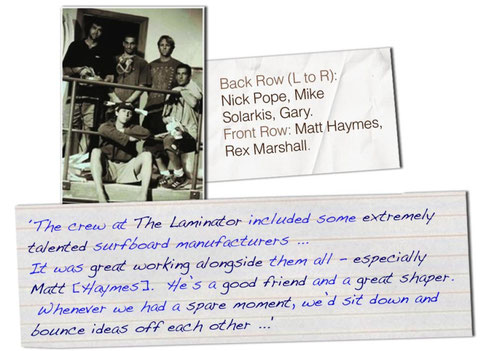 THE BIRTH OF ASTRO
1994:  Gary establishes Astro Surfboards in Avalon - and between '98 and 2000 also ran his own, hugely popular, Astro Surf Café there.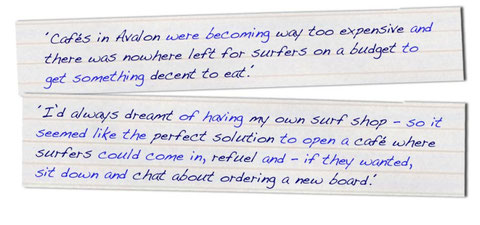 BACK SLIDING
1993:  Gary has motorcycle accident and seriously injures his back.  He is forced to stop surfing and begins to doubt his prospects of ever getting back in the water...  
... Until, that is, a friend convinces him to try getting on his mal...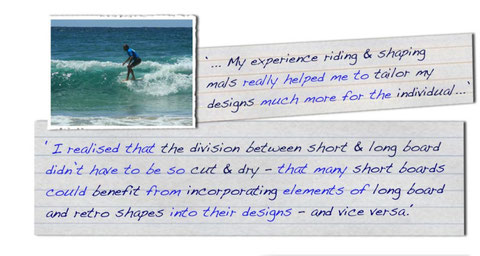 SOCIAL CIRCLES & CONTEST CIRCUITS
1994 on:  Gary's changed relationship with mal riding draws him into the friendly world of mal clubs: starting with both Avalon's 'Hole in the Wall' club [later 'Palmy' or Palm Beach Longboarders] – as well as the 'Reef Riders' [Longreef] mal club.
At this time, Gary also volunteers to host The Northern Beaches Regional Longboard Titles as well as his own 2001 Surf Odyssey at Curl Curl.
MILLENIUM MOVES
2000 on:  Gary moves from his childhood home on Sydney's Northern Beaches
to his teenage playground Byron Bay - where he has old family ties.  
Something about Gary's move to Byron seems to spark a renewed enthusiasm 
for his shaping approach.

He launches himself on a full immersion into shaping history – resurrecting a variety
of retro styles and shaping know-how from classic twin-fins, fishes and fun-boards of
all eras.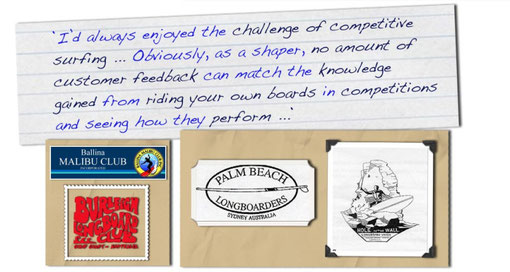 ENDURING PASSION
Today, this enthusiasm for the 'glory days' of shaping (and surfing) remains
strong for Gary. He continues to draw inspiration and resource knowledge
from every era of shaping ...
... For Gary, it's all about creating the best possible outcome for each individual.