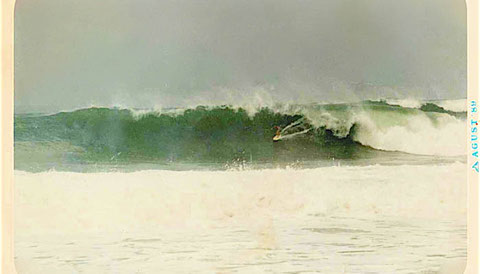 Isabelle Braly
I have been riding Astro boards for just under three years.  I love that Gary is so keen on design and willing to discuss every detail of every board he makes. The enthusiasm he conveys about the boards he creates makes me more excited about surfing and the boards I am riding.
Michael Esposito, Sydney,  '99 
Hi Gary, Just to let you know that the new Malibu you made me is without doubt the best long board I have ever had.
The new blank curve design is awesome for both nose riding and coming off the top, allowing the focus on the next turn (rather than worrying the nose might dig).
I'm so stoked!  Thanks.
Marg Bryant, Lennox Head, July 09
Hi Gary, Just to let you know how much I love my very favourite Astro aqua board ( the only longboard I ride now). I get lots of comments about how & smooth it rides and I catch lots of waves. Am proud to be riding your board!
George Leslie, May 09
At one of our Lennox Longboarders club rounds Gaz has appeared, out of no where, and mentioned that he had a couple of 9'6´´ `true blue' Farrelly 66 Stringerless replicas for sale.  
The bugger had 'em with him and at first glance I knew I had to have one!   
Most definitely the work of a master craftsman, the boards were beautiful.
Both were full gloss finish and tinted – one blue, the other a browny, beer-coloured one ...........  Jeeze I love the amber – so the choice was easy. Everything about them is 'real' – right down to the deep but narrow fin, with amazing flex and drive.
I've got a few boards, so I don't surf it every day and just by chance have been on it for the last 5 days – with beautiful waves out back of the shops at Lennox.  It's a truly unique board, with heaps of drive and speed – and a great sweet spot right under the nose concave.  After riding 9' tri fin set ups and standard single fins for the last 5 months, it was a real change to hop back on it.  You've got to surf it quite differently from the others – which is one of the great things about having such different 'feel' in your boards.