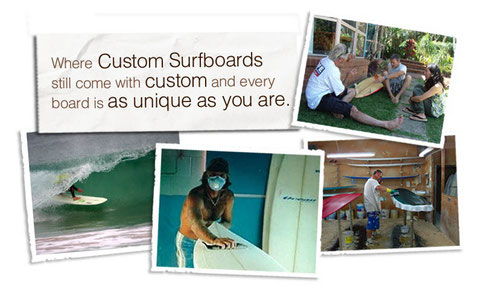 With over 30 years shaping experience – and 40 years surfing – Gary Burden
has a deserved and enduring reputation as one of Australia´s leading surfboard manufacturers.
Based in Byron Bay, for the last ten years, Astro Surfboards is perfectly positioned to make the most of Australia´s leading surfboard production talent – with all Astro boards being glased, sanded and finished in Gavin Huish´s, Glassrite factory on
Byron´s Arts & Industry Estate.  Gavin has been serving the surf industry with quality glassing and finishing work, since 1967.
From the foam blank to the fibreglass, sprays, resin and finish coats - both the
materials and workmanship employed in making an Astro board are of the highest quality in Australia.

Today, Gary remains very much the ´surfer´s shaper`- someone who takes the time to
get to know each of his customers personally - with a passion for making the best possible board for every individual. 

For Gary, sitting down over a cuppa to exchange stories, know-how and experience
with you is every bit as important as his shaping and surfing are.
Add to this Gary´s self-confessed inability to give anything less than 100% to each and every board he shapes – and you can guarantee service that´s second to none...
If you´d like to chat to Gary about your surfing needs and options - or find out more about his shapes, designs and prices, please feel free to call him on his mobile or drop him an email.