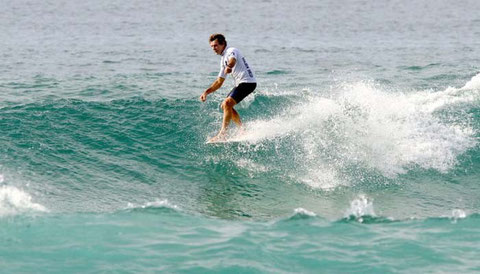 Age  59 years old
Nationality  Australian
Current place of residence  Moved to Freshwater Beach (Harbord) in 1961 
Home breaks  Freshwater Beach, Harbord
Occupation  Builder and Cabinet maker
Years surfing - where/ how/ why...
Been surfing for 48 years and still addicted. I started surfing with my older brother (2 years older) at Freshwater on a borrowed board until I could convince Dad to buy one for me... an 8ft Loumaro.  We joined the Freshwater Boardriders club, when it first started in 1964. 
Years surfing Astro boards - and what it means to you to ride 'em...
I can't remember how long I have been surfing Astro's, but it must be about 15 years I think. I have always loved the looseness and responsiveness of the boards that Gary makes for me.
Fave surf spot
I love surfing by myself at Long Reef after work. 
Most Memorable Surfing Experience
My most memorable surfing trip was to the Maldives (Paster Point) with 8 other mates from Manly club.  We had fantastic surf for 10 days, surfing 3 to 4 times a day and crashing at night.
Surfing style, board Preferences etc...
I love surfing all types of boards - whether it be a short board, traditional long board, performance board or Old Mal.  They're all fun !!
Significant contest wins
1991  2nd in 8ft Aust Titles
1992  2nd in Open Aust Title
1993  4th in 8ft State Titles
1995  1st  O/45 State Titles
1996  2nd O/45 State Titles
1997  3rd  O/45 State Titles
2001  1st  O/50 State Title
2002  1st  O/50 State Titles
2003  1st  O/50 State Titles
2005  2nd O/50 State Titles
2005  2nd O/50 Aust Titles
2007  3rd O/55 State Titles
2007  3rd O/55 Aust Titles
Future plans
Keep surfing, maybe move up the coast and retire somewhere !!!!
Other interests 
I can't tell you what I do when there is no surf... but it keeps you fit !!!!! (Yes Lynden - and they can both leave you're back worse for wear...)