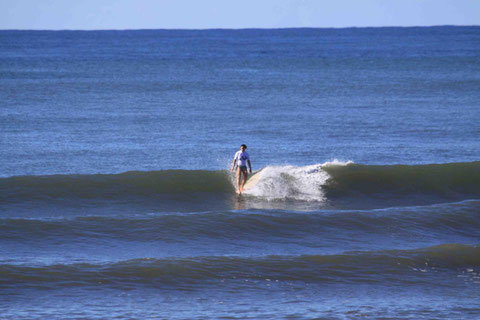 Age  26 years old
Nationality  Dual Australian/ American resident (Aus-merican! haha!)
Current place of residence  Byron Bay
Surfing Stance  Goofy
Home breaks
Current  The Pass, Wategos, Lennox beachie, Flat Rock and the Alley in Currumbin
Past  My childhood break was `A`Street in St. Augustine, Florida – which I could see from my bedroom... It was good!
Occupation  High school English and History teacher
Studies  Currently completing a Post Graduate Juris Doctorate of Law at Bond University
Years surfing- where / how / why... I grew up on the beach. I started surfing as a little girl by standing up and surfing on body boards in Florida. My dad owned a surf shop so by the time I was 8, I had my own custom made board. I rode shortboards until I was about 15. Then I started longboarding. Now, I am almost always on a longboard. I love it:  It suits my style better, and the longboarding community is so welcoming.
Years surfing Astro boards - and what it means to you to ride 'em...
I have been riding Astro boards for just under two years.  I love that Gary is so keen on design and willing to discuss every detail of every board he makes. The enthusiasm he conveys about the boards he creates makes me more excited about surfing and the boards I am riding.  I also like that I am able to go surfing with Gary and do a lot of board swapping with him.  It's so motivating and inspiring.
Travel wish list
I would love, love to go to Sri Lanka; the waves, the culture and the tropical terrain look amazing. I think I just like the concept of elephants and longboards in the same vicinity. I am also really interested in doing a Southeast Asia boat trip; just sailing about and surfing but I need to learn to sail first!
Most Memorable Surfing Experience
Flat Rock in May 2006, there were perfect overhead waves from out past the point to the rocks, half way down the beach.  Don't think I did anything but surf 3-4 times a day for the entire week.  I skipped uni, ignored work and just about everything but surfing that week.  There were beautiful waves with Eric Walker showing us all up! --- I am still waiting for the banks to return to Flattie, like it was that year.
Surfing style, board Preferences etc...
Love longboards, especially single fins - often with a little bit of weight in them.
I like to flow. I like drop knee turns. I like noseriding...
Significant contest wins
2008 Taito Pro in Chiba, Japan: 1st place
2008 Women's World Longboarding Championships in Biarritz, France: 9th Place
2009 Noosa Festival of Surfing Women's Pro: 4th Place
2009 Crescent Head, Women's Open: 1st Place
2009 All Girls, Women's Longboard Pro: 2nd Place
2009 Women's World Longboarding Championships in Biarritz, France: 16th Place
Future plans
More surfing, more waves, more smiling, more traveling, graduating from law school...
Other interests 
Music: Iron and Wine, Modest Mouse, Ben Harper, Magic Numbers, it's along list,
I like music.
Food  Vegetarian with fish. 
When it's flat  Indoor soccer, Bikram yoga, reading fiction