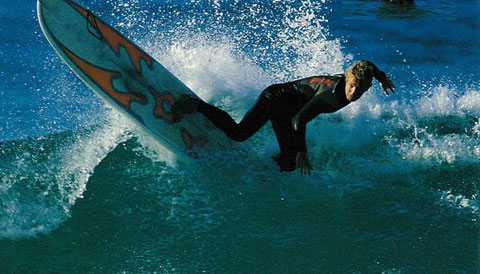 Growing up at Lennox Head, in Northern New South Wales - Luke was !@ when he decided he wanted to start surfing competitively. Gary was a familiar face in the surf at Luke's home breaks - and Luke lists Gary (along with Bonga Perkins, Heath Norrish
and the late Russell Watts) as one of his key influences at the time.              
When Luke approached Gary about competing, Gary was only to happy to help him
out with boards, advice and support.  Before long, Luke was competing at events up
and down the country including: The Malfunction, Noosa Festival of Surfing, Crescent Classic, Lennox Classic, Hogg's Breath national series State & National Titles. 
Gary's board designs & tactical influence in competitive surfing saw Luke go from strength to strength in his surfing. In particular, Gary encouraged Luke - a goofy footer - to push his backhand manoeuvres. Luke achieved great success in this regard -
gaining him high praise from his competitors as well as judges. 
Luke secured many finals appearances, during his time with Astro Surfboards.
The following are some of his most notable achievements:
2002   3rd NSW State Titles
2002   3rd Australian Titles: Under 18s
2003   1st National Hogg's Breath's Titles: Under 18s
2003   1st The Noosa Malfunction